The Closes, Redcar.

An extra care facility consisting of 44 no. apartments with communal spaces and 18 no. bungalows on site.
Department For Education, Darlington.

4 storey office building for the department of education. Roof top exposed plant area. External car parks and access road lighting.
Seafarers Way (The Old Orphanage), Sunderland.

New build 39 extra care apartment facility with communal areas and facilities. Refurbishment of an existing listed building to provide high quality office space for rent.
Retail – Superdry Store, Eldon Square, Newcastle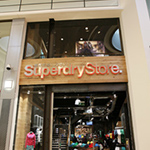 Retail – Superdry Store, Eldon Square, Newcastle We fitted the store with general power, fire alarm system, emergency lighting as well as feature display lighting, high level background lighting, illuminated shelving and signage, to improve its visibility and customer appeal. Read More >>
Prisons

Frankland Prison, County Durham New Integrated Drug Treatment Station within the live wing of a category 'A' prison, consisting of the installation and commissioning of general alarms, fire alarms, general lighting and power into extremely robust rooms, to form this new facility within the prison. Castington Prison, Northumberland A new clinic within an existing… Read More >>
Commercial – Freudenberg Factory Unit, North Shields

This involved the complete refurbishment of a fire damaged production unit, including mechanical controls wiring, low bay factory area lighting, fire alarms and general small power and lighting. Read More >>
Commercial – Trinity Square, Gateshead

Selected to work on the Primary Care Centre, being constructed as part of the Gateshead town centre redevelopment, we delivered a twelve week fast track programme which included working at height to install lighting, power, access control and CCTV systems. Read More >>
Supported Housing – Fordfield Road, Sunderland

An exciting new retirement village, currently on site, in the heart of Sunderland. This extensive project involved the design and installation of the site-wide low voltage network, fire alarms, call systems and door entry as well as the CCTV, data installations, general lighting and power to 175 apartments. Read More >>
Supported House – Levick House, Middlesbrough

A specialist building for Middlesbrough Borough Council, split into twenty sheltered accommodation units and a sixteen bed respite care block. The work included staff call / attack and fire alarm systems, the installation of 20 solar P.V. arrays to generate electricity, heat recovery ventilation units and low energy LED lighting. Within a glazed atrium an… Read More >>
Education – Durham University, Durham

A boiler house replacement including the delivery of the upgraded electrical works, alongside mechanical contractors, on a tight timescale – during the summer recess. Read More >>
Health Care – RVI (Royal Victoria Infirmary) Hospital
Installing over 14 miles of cabling, we delivered electrical expertise and services for a £300 million, eight-year investment programme at the hospital. Within the two new clinical blocks we provided the primary electrical services and containment systems for sub contractors in the general office space, teaching rooms and lecture theatre. Our work on the Culture… Read More >>